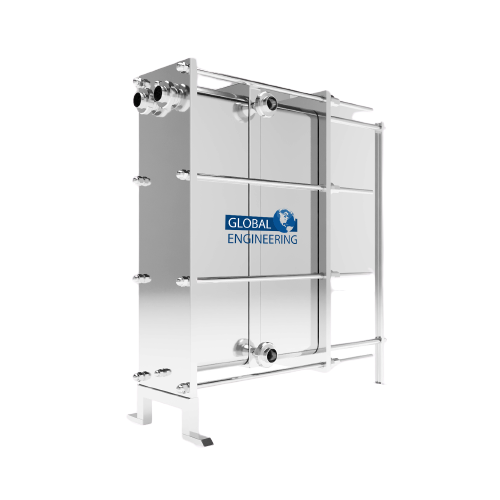 Plate heat exchangers
Collapsible plate heat exchangers combine the compactness of the installation, high operational and hygienic requirements necessary for use in the food industry.
Plate heat exchangers are widely used for heating or cooling products at various technological stages. In collapsible plate heat exchangers, the gap between the plates on the product side can reach 12 mm.
Global Engineering company offers heat exchanger plates made of both AISI 316 stainless steel and titanium plates for working with aggressive media. We use Funke or Kelvion plates in heat exchangers at the customer's choice.
The design of the heat exchanger provides easy disassembly for inspection and cleaning. Each plate of the heat exchanger is pressed into a single unit, without joints or welds. In each plate, except for the terminal and rotary, four holes are punched, one in each corner. The end plates have unbroken holes.
The collapsible plate heat exchanger consists of the following main components:
fixed and movable plate
upper and lower guides
support post
plates with seals
The package of plates is suspended and leveled using the upper and lower guide rails and held in a compressed state by tightening the studs between the fixed and movable plate. This design makes it easy to disassemble the heat exchanger for inspection, cleaning and modification.
Heat exchange plates are clamped between the two plates with the help of tie pins.